Mahalo! Hawaiian Wedding in the Burgh | Wedding at Frick Environmental Center
Kelly + Terry
Beautiful!
Gorgeous!
Generous!

Those are the 3 words I would use to describe the love party of Kelly and Terry, one of the most beautiful weddings I have photographed, and the biggest lesson of my career. Let me tell you why:
When I meet with couples, I always ask them why are they getting married. I like knowing the motivations behind every couple. You see, I'm not a typical photographer. I'm a person who seeks meaning and intention. I want to get to know my clients. I want to know what sets their souls on fire. So, I am interested in the meaning and intention behind my client's decision to spend a ton of money on a party. Yes, weddings are motivated by love, but in today's world where people can elope, self unite, or go to the courthouse, there is always a deeper reason behind having a regular wedding.

Kelly and Terry's answer that day was shocking. Years ago at the beginning of my career, I heard a wedding planner say that "weddings are supposed to be, look, and feel like a wedding, and they should not be a family reunion", yet, there I was, sitting in front of Kelly and Terry, who were telling me that they wanted their wedding to be a family reunion because their families have had a hard time lately.

Later, during the wedding day, the multiple toasts let me know this was a family who were grieving the departure of some of their favorite relatives, and the wedding was the tool that Kelly and Terry were using for their healing.

I don't think there is a more selfless demonstration of love than this, and here is the lesson I learned: Love to each-other can manifest in the way that love extends to family..... (and the opinion of a wedding planner in regards to what a wedding should be, is just that, an opinion).

But Kelly and Terry's generosity didn't just extend to their families, their selfless love transcended further than what you could ever imagine.
They are big advocates of mindful consumerism, they care about the community, the planet, animals, and all humans!, and thus, their wedding day involved a primarily vegetarian menu from Moe's, a rich vegan cake from the East End Co-op, potted plants to make sure they could get planted rather than ending in a local landfill, jugs of water to avoid plastic bottles, and beers from local breweries to support local businesses.

The cherry on top of this cake was the incredibly amazing donation of leftovers. There was so much untouched food left at the end of the day that we called 412 Food Rescue and volunteer Leland took enough food to feed 40+ low income people at a nearby church.
And like if that wasn't enough, there was still 32 portions of food that Nick and I delivered around downtown to all the homeless we could find at 6pm under a 90 degree day.

In total, this wedding was one of the most impactful weddings ever! Feeding close to 70 people with leftovers, while warming up the heart of an entire family.

Take a look at one of my favorite weddings ever, the Hawaiian inspired wedding of Kelly and Terry, complete with floral Leis imported straight from the island:
Mahalo!
Catering by Moe's
Ceremony venue Frick Environmental Center
Party venue: Rhododendron Shelter at Highland Park
Dress by Alexia Maria @shopalexiamaria
Shoes by Jeffrey Campbell @jeffreycampbell
Jewelry by Dharmashop @thedharmashop
Hawaiian flowers - Hawaiian Lei Company
Hair - Giovanna Lein of Haven Boutique @gigilein_hmua
Limo by Haggertys Rides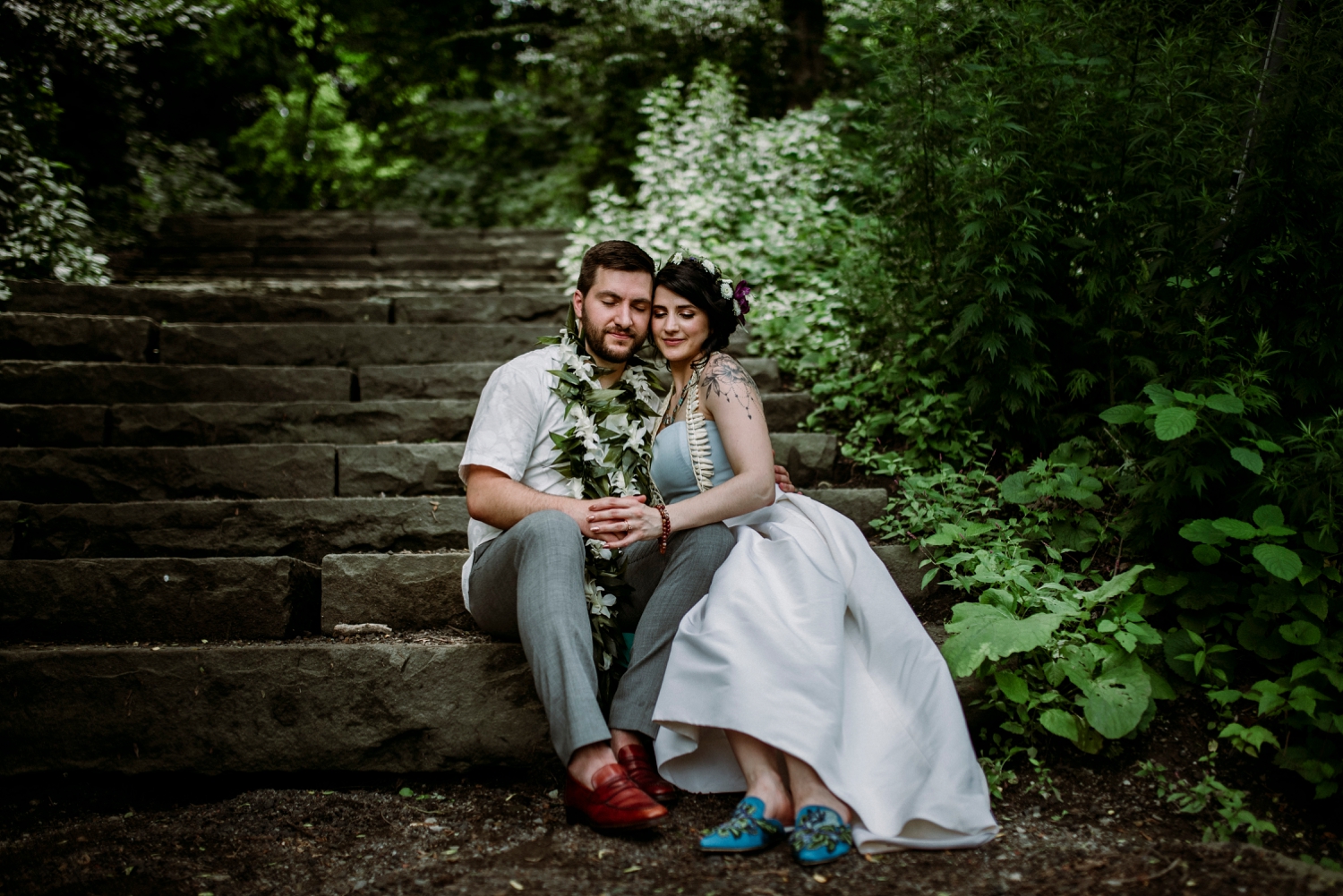 The most impactful wedding of my life!
Kelly and Terry's wedding leftovers fed close to 70 people and 1 chihuahua!