Eco friendly Elopement at Phipps - Pittsburgh
Juliet + Tim
Does wedding planning stresses the heck out of you?
Well, you are not alone. This is why Juliet and Tim completely streamlined it and planned their wedding in ONE WEEK. Yup, I said one week.
But if that wasn't enough difficulty, they added an even more fascinating detail: their wedding was planned in a week from out of state.
#LevelGod
Juliet and Tim are a young couple currently going to college in Indiana (the state, not Indiana, PA)
They are barely 21 years old, and personally, I am beyond jealous of how they have their life so together (you don't wanna know what I was doing at 21 but you bet it involved large amounts of not knowing what to do with my life, lol).
 
They have the cutest little boy, and are planning to eventually move to Pittsburgh, which is why they decided to get hitched right here in The Burgh.

Their wedding day was full of "meant to be" events and intentional choices. From the venues, chosen to minimize carbon footprint, to Juliet wardrobe choices (second hand, the most eco friendly way to shop), to yours truly here, chosen because of my ethical approach.

The happy couple promised each other love, friendship, and commitment to each other under the Quaker tradition and the Baha'i faith, in a meaningful ceremony surrounded by the 33 people who were able to attend on such a short notice, and the beauty of the Broderie room at Phipps Conservatory.
 
During the ceremony I sent Nick (my assistant) to buy a lock, and after the ceremony we all walked in the rain to Schenley Bridge to put it on, giving us the opportunity to take some badass portraits. (Thanks Nick!)

After that, the videographers and the couple all got into our van, and we headed to Pointbreezeway, where the perfect fall comfort food, courtesy of Bistro To Go, awaited for us.
They chose this reception venue for its character, which did not required decorations, part of their commitment to minimize waste.
It was a lovely dinner, with the most fun group of people, if you don't believe me, just scroll down below...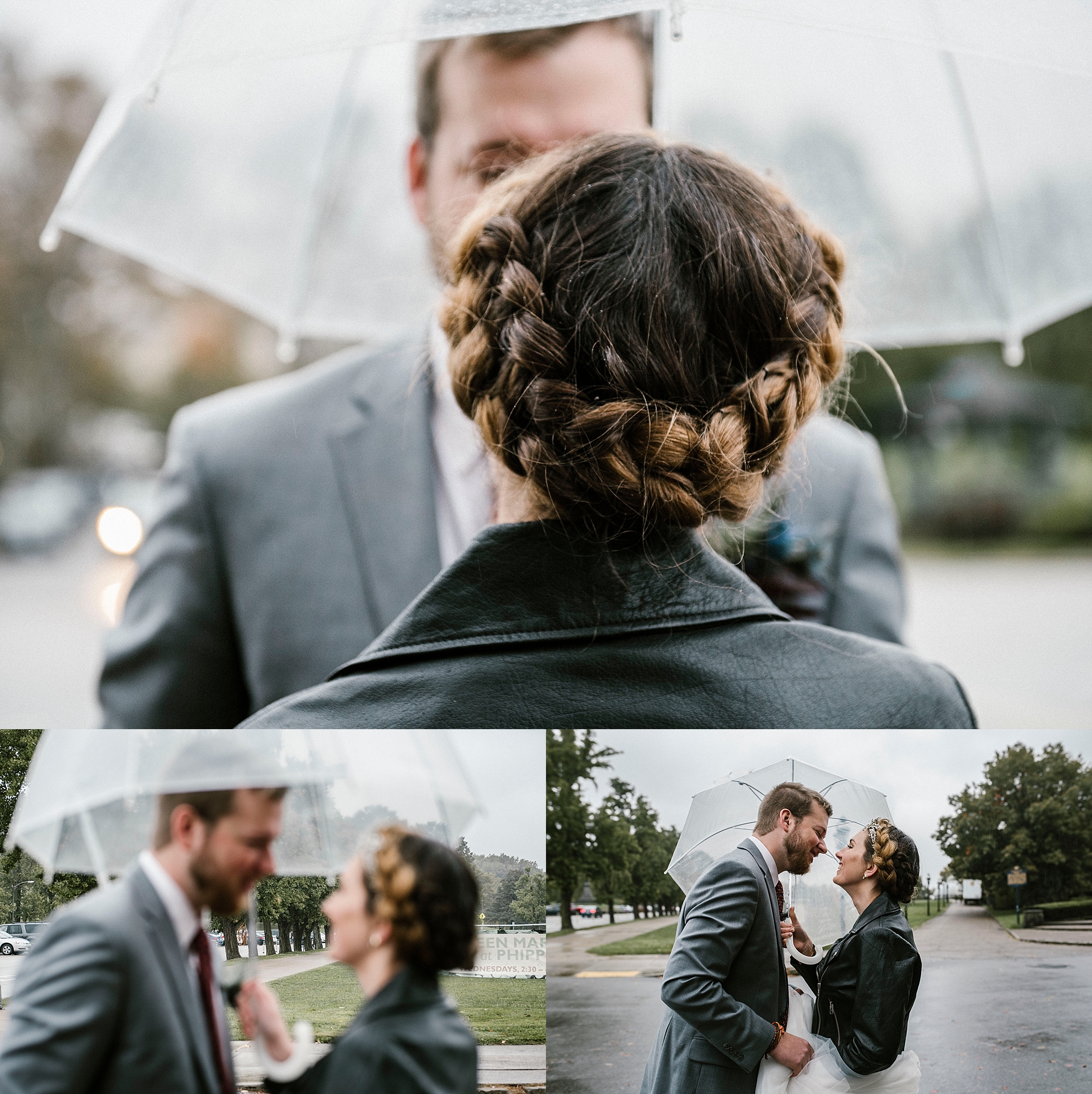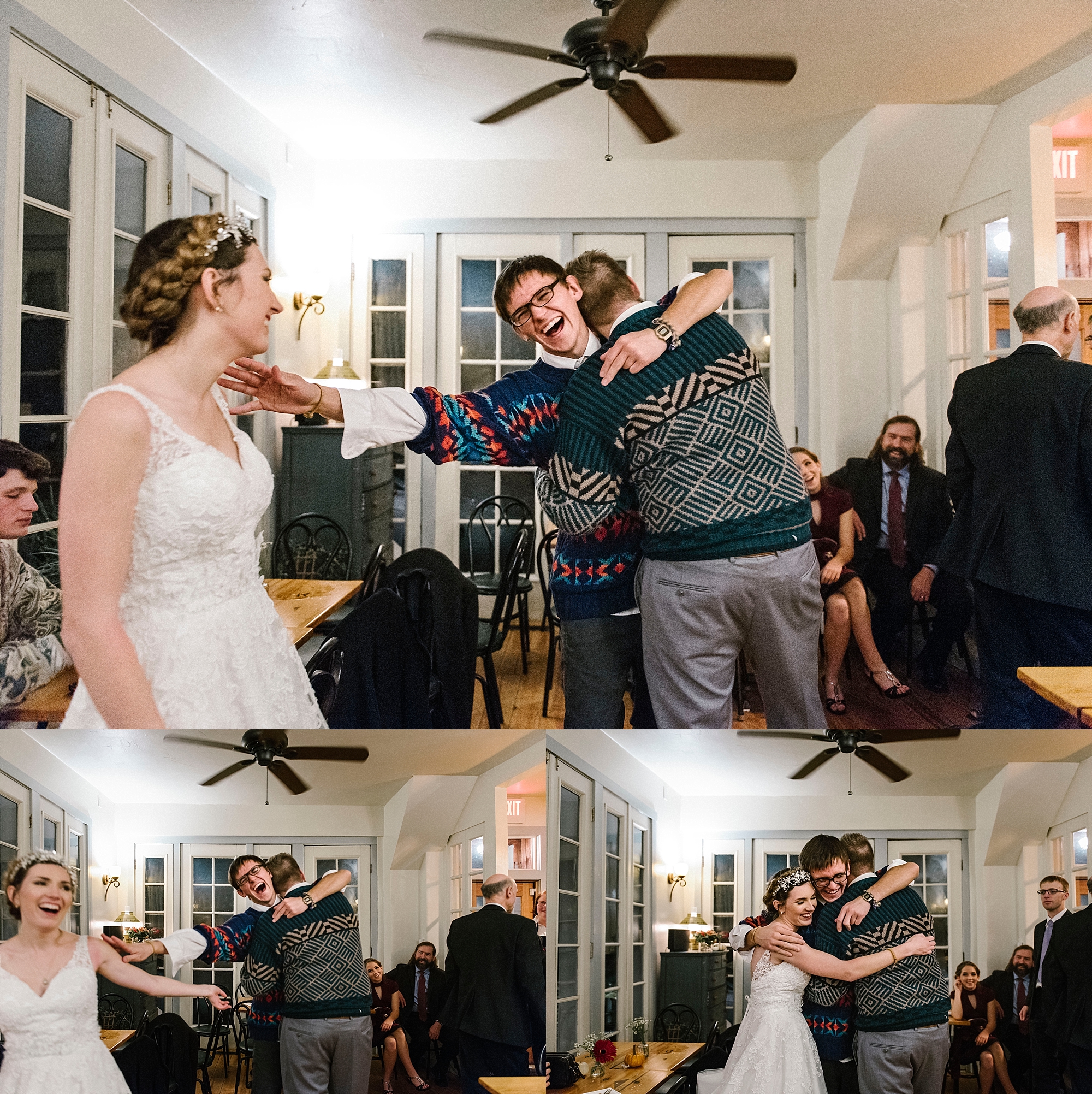 At the end of the night, thanks to Bistro To Go who allowed us to repurpose the leftovers, we were able to feed homeless people who were getting soaked in the street. Not only a great way to extend the blessing of a wedding beyond the guests, but also an efficient way to reduce any potential waste from the day.

Thank you to Juliete and Tim for their generosity, but also thanks because they were the first couple who provided containers for the food, and these were compostable.

This was also the first time where wedding guests are seriously concerned about helping us pack the food. Between Bistro To Go, Eva from the videographer team, and Nick, we had the task down, but we truly apprecciate their support.
That night we fed 13 people, here are a few of their faces, real grateful individuals that we were able to impact with Juliet and tim's wedding day.
But that is not all!
This couple also took advantage of my new and improved business model plan in which the couple can upgrade to a USB in exchange to a donation to charity, and they decided to benefit "Beverly's Birthdays" an organization based in Pittsburgh providing birthday experiences to children at social risk.

And finally, $100 of the fee that this couple paid is going to Kiva loans, to support another small business under the category of "Single parents", per request of Juliet.

An amazing experience for an amazing day.
Congratulations Juliet + Tim (and little Kazimir)