Chinese-American Wedding in Pittsburgh
Jessica + Mark
The month of June was probably one of the most emotionally loaded months of the year, our country was divided as the president enforced the most controversial anti-illegal immigration strategy ever, separating undocumented children from their adults at the border.

Meanwhile, in Pittsburgh, our calm and quiet Burgh entered the statistics of police brutality with the death of Antwon Rose, an african-american teenager shot in the back during yet another "confusing" incident which resulted in his death, followed by multiple protests, and our calm city was divided with the ones against and the ones in favor...

Personally, I am an active advocate of using the opportunities we have to make a stand that empowers others, and Jessica and Mark's wedding was a vivid depiction of Sandrachile's core beliefs:
Jessica is originally from China and immigrated to California along with her parents when she was only 9 years old. Mark, meanwhile, is a quintessential American kid.


They met in college, and I remember during our first consultation Mark was spell-bound telling me how Jess was the most beautiful thing he had ever seen.


That same feeling set the tone for the wedding. Mark was taking care of every small detail, just so Jessica would be comfortable, Jessica would be happy, Jessica would be okay. Nothing mattered except her happiness.
The wedding of Mark and Jessica taught me many things, like how in the chinese culture it only rained for important fancy people, so if it rained on your wedding day it was a sign of good luck.
(Glad they believe that, because since this is Pittsburgh, of course it poured).
The ceremony was the perfect time to see this couple's love flow, and also the one thousand faces of Jessica, and her ability to go from tears to laugh on a split second 
After the ceremony came the speeches, and they were EPIC!
I always enjoy when the best man is a brother of the groom, they always have the funniest insights.
I also heard the most beautiful and heart melting bridesmaid speech ever, that included the immigration story of Jessica's family, and the struggles of living separated for 7 years, without visits, the internet, or communicating often. It was such an emotional moment. We all cried, especially me.
Perhaps, it is what encouraged Jessica and Mark to share their honeymoon funds with the ACLU, to help the current immigration crisis.
 
I got to witness a tradition that I had not seen for a while, but since the wedding had many foreign guests, Jessica really wanted all the western traditions to be present during the day
 
And did I mention how gorgeous was the cake?
I also learned how Jessica had their closest relatives come all the way from China, and despite that huge economical sacrifice, they insisted in preserving the red envelope tradition, which consists of the couple receiving a red envelope with a gift of money intended to help them pay for the cost of the wedding. The money inside the envelope has very strict number related rules, like no uneven numbers or no fours (among many others).
 
and how squatting came natural and comfortable for chinese people, because they use that position a lot, so there was a lot of squatting done.
The reception was super fun too. Jessica and Mark were so joyful during their first dance!
 
And the father daughter dance was so beautiful and emotional.
Jessica said the song they danced was a song her dad used to sing to her when she was a child. 
"The Moon Represents My Heart" by Teresa Chang

月亮代表我的心
Mark and his mom did a wonderful and choreographed job as well! I tried to record it, but I'm obviously a better photographer than videographer, lol.
Towards the end of the night, the third night of protests took place a block away from us, and we encountered the protestors on the way to our sunset portraits.

We took this opportunity to give the protestors support, inviting them to take some pictures with us, while they taught us what signs to make that implied support and respect. We then hugged and went on our way. It was literally one minute only, but a minute we took to express that we do care, and in an aching world, caring is everything.
 
And after all that rain, we got excited that the sun came out to give us a gorgeous sunset
OH.MY.HEART!
It was such an empowering day!
Finally, and thanks to Jessica and Mark's generosity, plus the logistical support of Sausalido catering, and Chelsey from the Morning Glory Inn,all the leftover food was packaged and Nick and I drove around downtown looking for homeless people to feed. We ended up feeding 22 people that day!.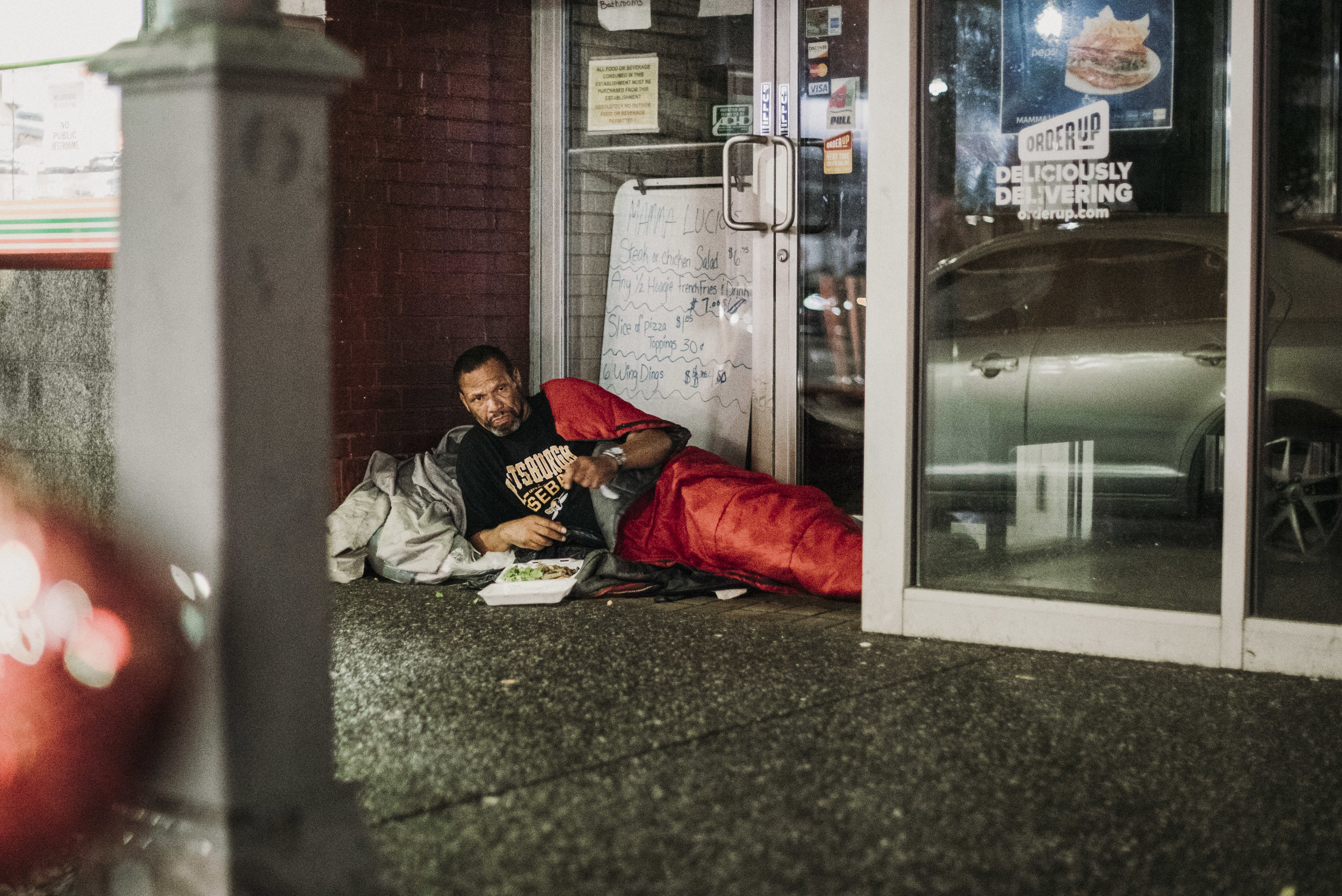 Thank you Jessica and Mark for making me part of such an incredible day!
What made this wedding ethical: