A Constructed Adventure Proposal In Pittsburgh
He is a full time "adventure planner". A whaaaaaat?…
Don't worry, he had to explain this to me, too.
He basically plans scavenger hunts to surprise others.

This time, he was hired by Jorge who gave him the task of creating a custom scavenger hunt where, at the end, he could propose to his beloved Clara.
So, Chris came all the way from sunny San Diego, spent 2 weeks here in gray-ish Pittsburgh, planning, walking around, and putting together the most epic day of adventures and clues for this couple.
Toward the end of the planning, he contacted me because he needed a photographer, and here is where I came in.
The idea was to wait for them and photograph the moment when he kneeled down.

Lead by my thirst of adventure, and the adrenaline rush of the moment, I volunteered myself to go the extra mile, and instead of just photographing the proposal, I spent most of my Saturday following Jorge and Clara around downtown. Jorge used the excuse of testing a GPS tracker for a friend, and he and Clara went around downtown picking up clues that lead them to different riddles and puzzles.
Chris, meanwhile, was just a step ahead of them the whole day, setting up the wax sealed envelopes written in old style calligraphy, and I was one step behind them, unfolding all my Rambo style movements, behind trees, people, and poles to document the adventure.




From a payphone in Market Square, to a drink at Nola



From the Fort Pitt Museum, to The Point.

From the point to "George Washington's distant relative" who gave them a locked chest, now their job consisted of finding the key to open that chest
Then a locket that they had to leave at the Clemente Bridge, which when clicked would release the next clue which was an epic boat ride.
(Later on, Clara confessed that at this point she became suspicious and started sniffing that perhaps she should have gotten her nails done).
The boat left them at the incline, and I ran to take position at Saint Mary's on the Mount church, where Clara's grandmother had gotten married. Then they headed to Love Pittsburgh Shop to change their clothes [pics or it didn't happen!]… (all part of the game, of course).
Now the decisive moment of truth was getting closer and closer. …
The Moment We've all been waiting for…
I hid inside the church, and in a split second, Jorge was on one knee popping the question, to which, Clara answered YES!

After a couple kisses Clara realized that her whole family was there, and she pushed her high heels off and ran to hug all of them!
and after the hugs came the moment we all had been waiting for: SHOW US THE RING!!!!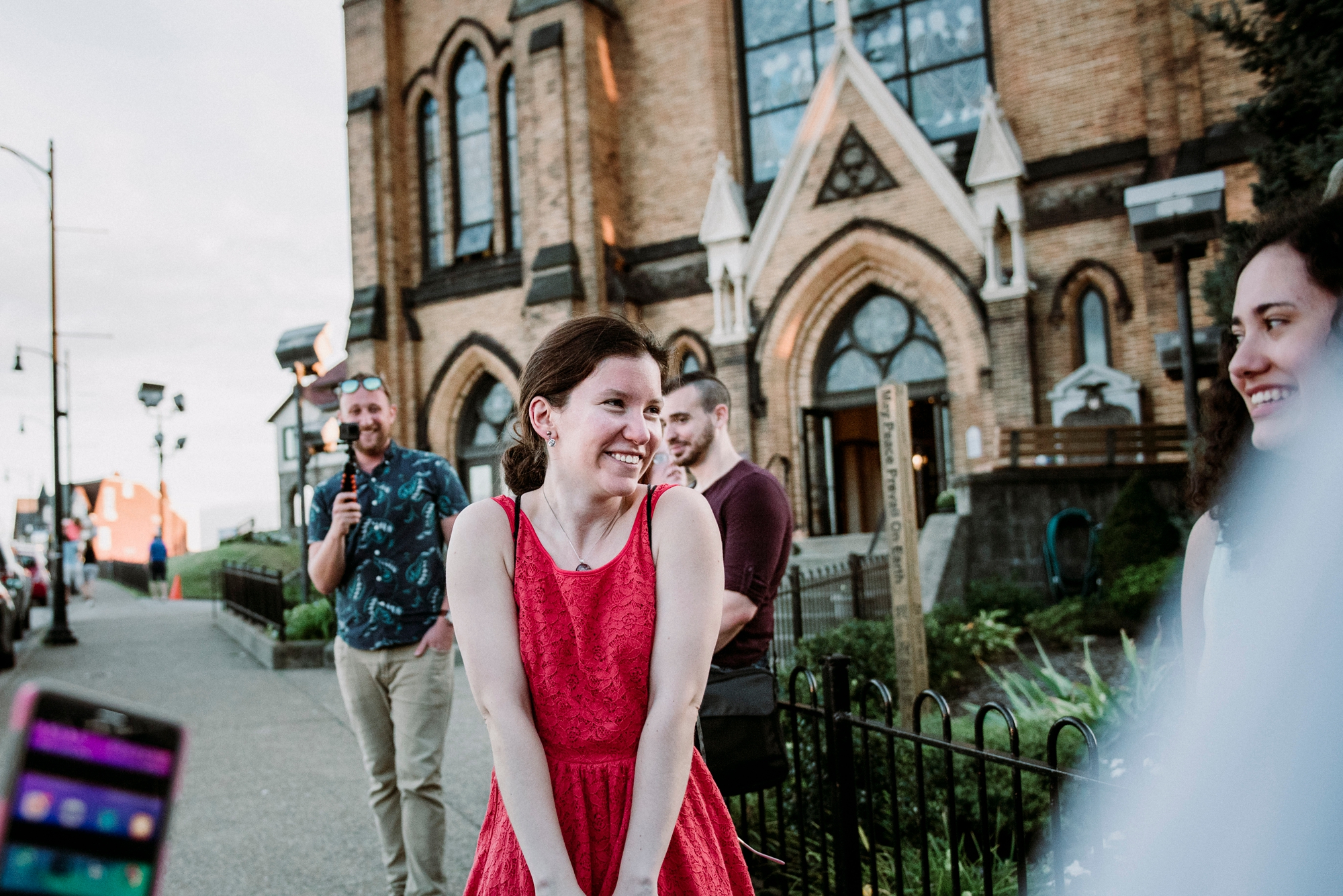 And finally, Chris, the architect of this adventure was able to sigh in relief: phewwww, it did not rain and she said yes!
YAaaY!
Felicidades
CLARA AND Jorge!